Cello Suite #1 for Guitar
by Victor Howe
Fingerstyle Guitar Instrumental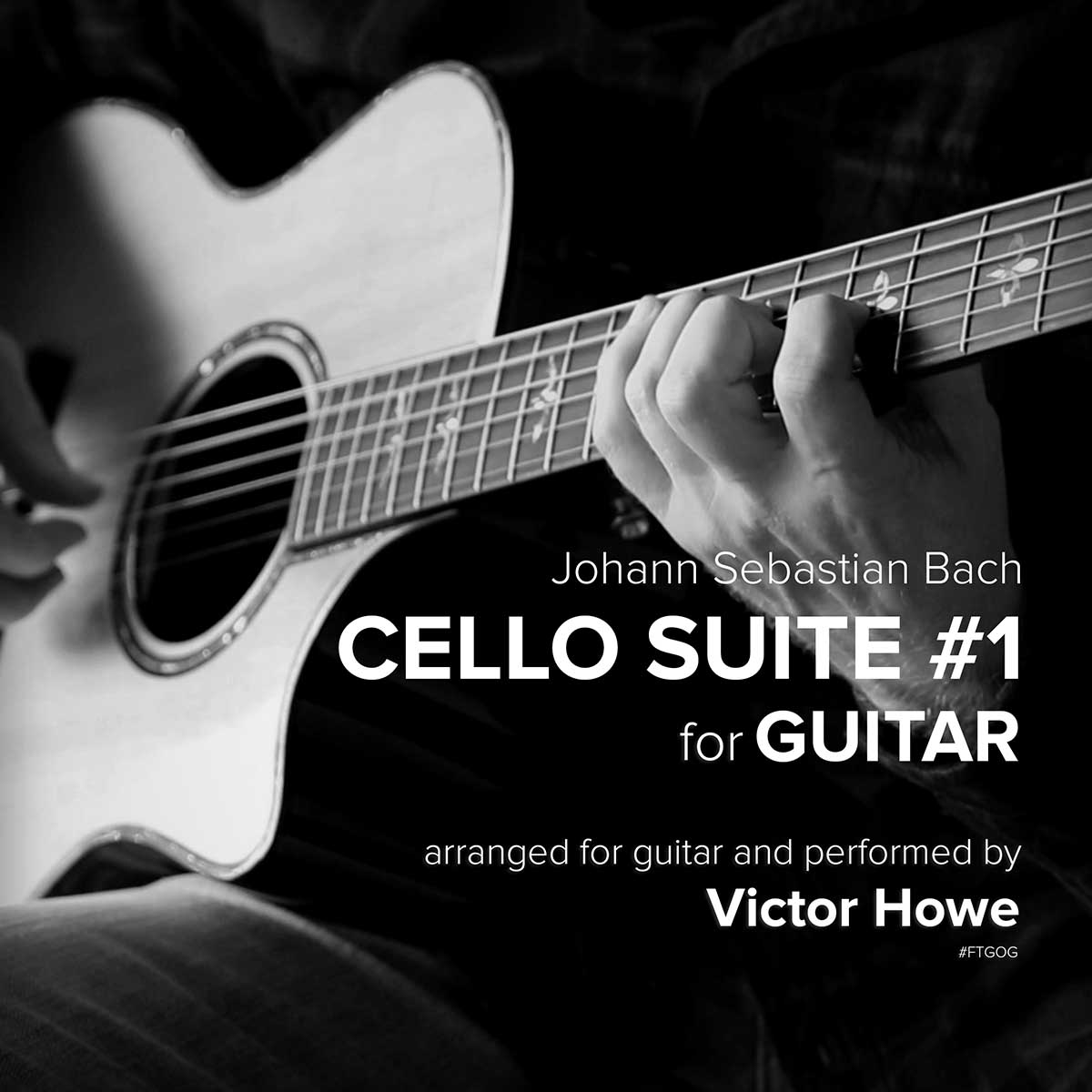 Cello Suite #1 for Guitar – fingerstyle guitar instrumental
I have always loved cello music, and of course J.S. Bach's Cello Suite #1 (prelude) is the quintessential example of cello, or at least the most popular. I was inspired to work on this piece after seeing a video of Michael Hedges play it on a harp guitar. While I don't own a harp guitar, I decided to give it a try on my Taylor 914ce.
I purchased the notation for the cello piece and began working on my own arrangement for guitar. The first challenge was establishing a tuning which I finally settled on as CGDACE, also known as my "cello tuning" as the 4 lower strings mimic the tuning of a cello. Yes I broke the 3rd G string many, many times! I did decide to use A=432hz for this piece so I didn't have to tune quite so high, and of course because the universe vibrates at 432hz or so "they" would like me to believe.
I began working on this piece in August 2018, and it took several months just to memorize the passages, workout the fingerings and string placements. After that was accomplished, it took probably a complete year to master the arrangement and begin to incorporate some artistic interpretations and emotional construct to the piece. It really was quite a challenge, but I am thrilled with the results.
I probably should've titled the piece "Cello Suite #1 for Guitar (Prelude)" but I was trying to keep the title as short as I could, and for all practical purposes, I don't believe casual music listeners make a distinction between the prelude and the entire first cello suite (just my opinion).
In early 2020 I felt I was far enough along with both the technical demands and the artistic elements to record the piece, and I released it in March 2020.
In a thrilling moment Spotify added the track to their editorial playlist "Calming Acoustic" in early April 2020, and it gained nearly 200,000 streams before being removed in early June. It was fun while it lasted!
The photo for the cover art is actually me playing. I am planning on doing a full video for the piece soon.